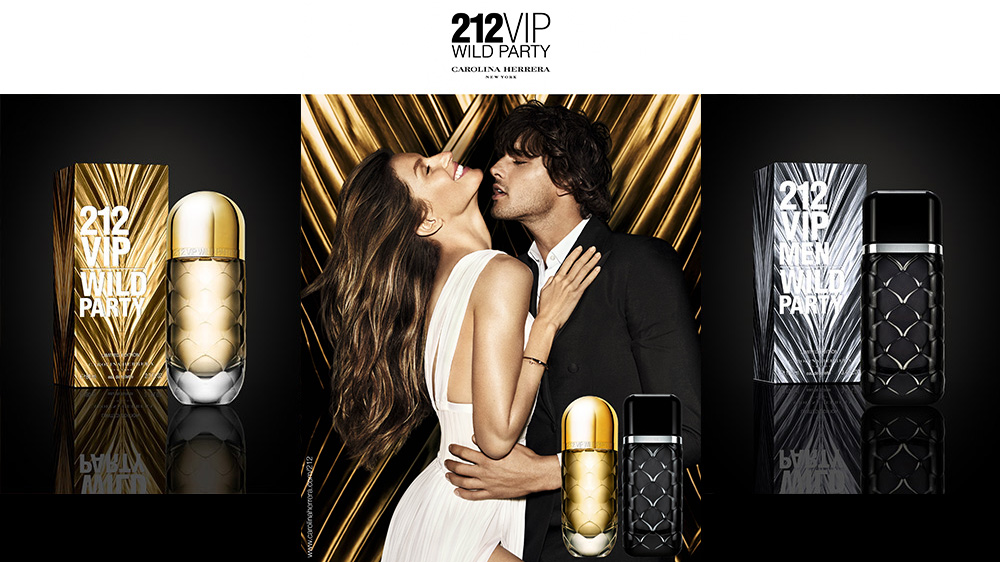 Carolina Herrera Celebrates Launch of 212 VIP Wild Party
Celebrating wild nights in New York, the world's wildest concrete jungle, 212 VIP Wild Party evokes extravagant evenings that twist and turn, full of unexpected surprises and sensuality.

Fresh, untamed and chic the 212 VIP wild ones are a new generation of fun loving, energetic uptown influencers who are carefree and creative and take their tribe downtown to dance the night away to city beats and rhythms.
Unleashing their inner souls and expressing their sensuality you'll find the wild ones moving their feet and bodies behind the hypnotising gold curtains of the city's coolest parties.
As word of these iconic New York parties spread, they reach mythological status and travel from Miami to LA, Rio de Janeiro, London, Barcelona, Paris, Dubai, Singapore, and beyond to be attended by only the world's most diverse and wild tribes.
Around the world the wild ones gather together, their secret language is their scent. It's 212 VIP WILD PARTY and it fills the air of each of the secret locations greeting the cool and creative crowd as they follow the scents and sounds of a wild party.
The 212 VIP Wild Party signature tastes and ingredients form the basis of delicious and beautifully presented cocktails that are graciously handed out upon arrival. The beating heart of the wild party is the dance floor, upon which free spirited men and women move seductively to a DJ dressed in gold. The DJ empowers the night taking guests into a glamorous and chic world – the Carolina Herrera 212 VIP Wild Party universe.
212 VIP Men Wild Party is the signature of the masculine VIP tribe and combines strong yet sensual ingredients for the wild man who is irresistible, an extrovert and full of fun. 212 VIP Wild Party for her is fresh, fruity, floral, a golden cocktail of ingredients for a wild woman who is urban, charming, impulsive and expressive. 212 VIP Wild Party is bottled in luxury glass engraved with a palm print and wrapped in silver for him and gold for her.
The 212 Vip Wild Party tribe are bound together by their natural curiosity and creativity. They are wild at heart and born to enjoy the magic of the night. Elegant yet expressive, striking yet spontaneous, they embody the next generation of the Carolina Herrera universe. 212 Wild Party His and Hers is the definitive wild scent. Homage to the sights sounds and moves of a night to remember.
The 212 VIP WILD PARTY will be available from 25th July 2016 for a limited time only and available in selected Carolina Herrera Fragrance stores.
To learn more, please visit www.carolinaherrera.com and join the conversation online using #212VIPWildParty.