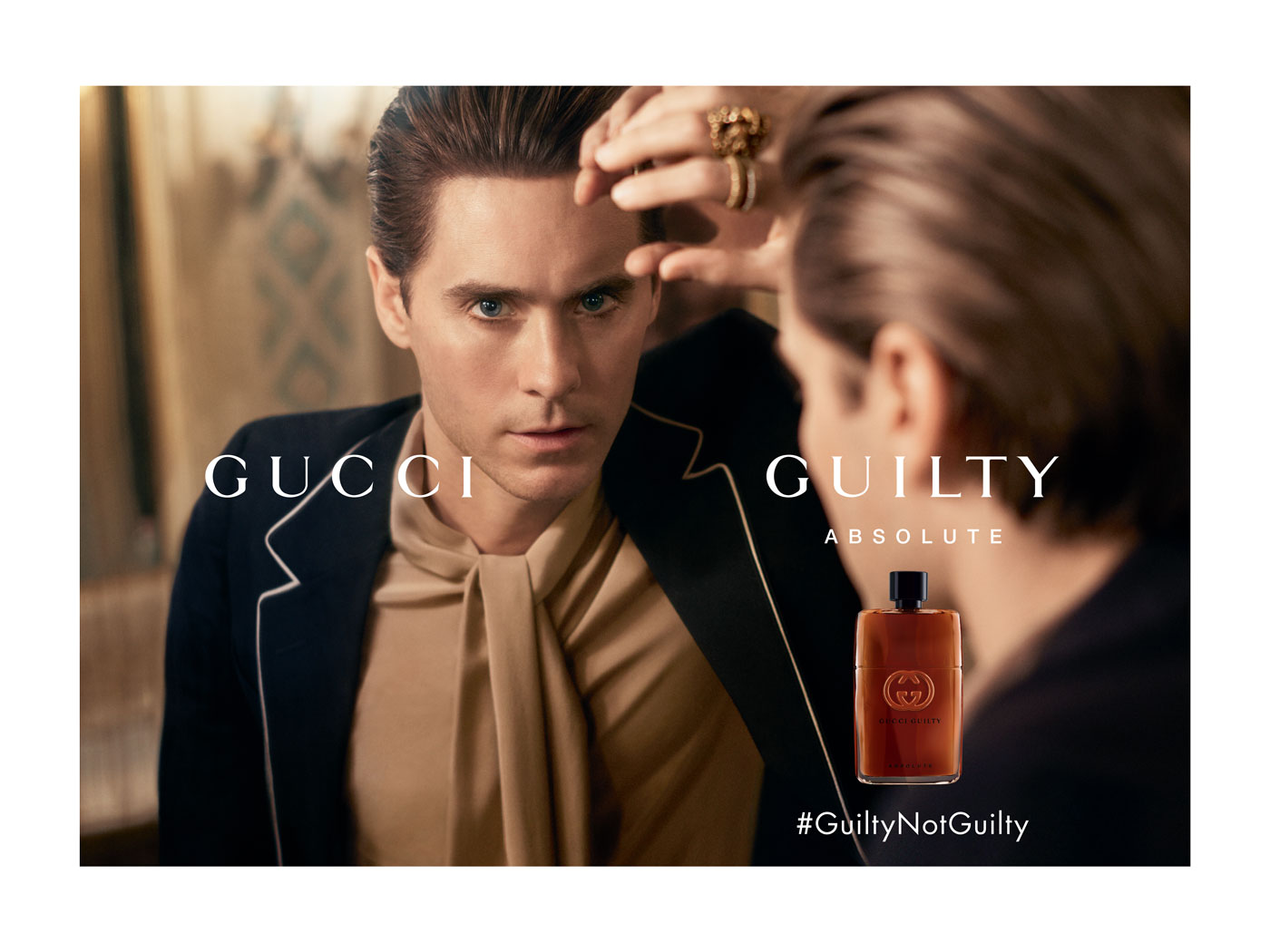 A new dawn has broken over Gucci Guilty. The fragrances convey the liberated message of #GuiltyNotGuilty: an attitude of feeling completely free. From this revolution a new scent is born. Created for a man who defines his own masculinity, Gucci introduces Gucci Guilty Absolute: a modern declaration of self-expression and emancipated sexuality.
Born out of a special collaboration between creative director Alessandro Michele and maître perfumeur Alberto Morillas, Gucci Guilty Absolute embodies the liberated man it is made for—an innovative expression of a men's woody scent. The master perfumer and Alessandro Michele share the same approach to their craft: an unceasing passion to create, and an unflinching attitude to do so beyond the traditional rules of fashion and fragrance. Like Alessandro Michele's collections, there is a mix of messages behind the scent. A leather hero ingredient is homage to the ultimate Gucci material; while the flacon is finished with details inspired by the codes of a refined lounge; the sensorial textures and colors of cigars and cognac.
INTRODUCING
GUCCI GUILTY ABSOLUTE
Alberto Morillas lends his high artistic sensibility to Gucci Guilty Absolute. A renegade fragrance in the men's highly populated woody olfactory category, the scent breaks the mold of a traditional woody construction. To set it apart, the master perfumer created a particular blend with a structure that remains unchanged from the first time it is applied to the skin. To do this Alberto Morillas defined the scent with two leading notes, custom-mixing a Leather accord Woodleather™ as a tribute to the House's leather-making roots, and a rare type of a common perfumery note, Goldenwood™, a new natural extract of the Nootka Cypress. Discovering the ingredient under an old bell jar in the Royal Botanical Gardens' archive, Alberto Morillas selected it especially for Gucci Guilty Absolute. The resulting scent features ultra-dry woody notes with depth and complexity. Intensifying the fragrance's composition are three forms of Patchouli oils with sweet, dark earthy character, Vetiver the fresh and earthy grass from woods.
THE BOTTLE
Rituals and traditions from a masculine world, the textures and colors of cigars and cognacs inspire the bottle design. The smooth flask style lines of the original and best-selling Gucci Guilty fragrance take the same shape for Guilty Absolute, the flacon filled with an Absolute rich cognac-hued scent and finished with a shiny black cap. A tobacco military-colored outer carton features black interlocking Gs.