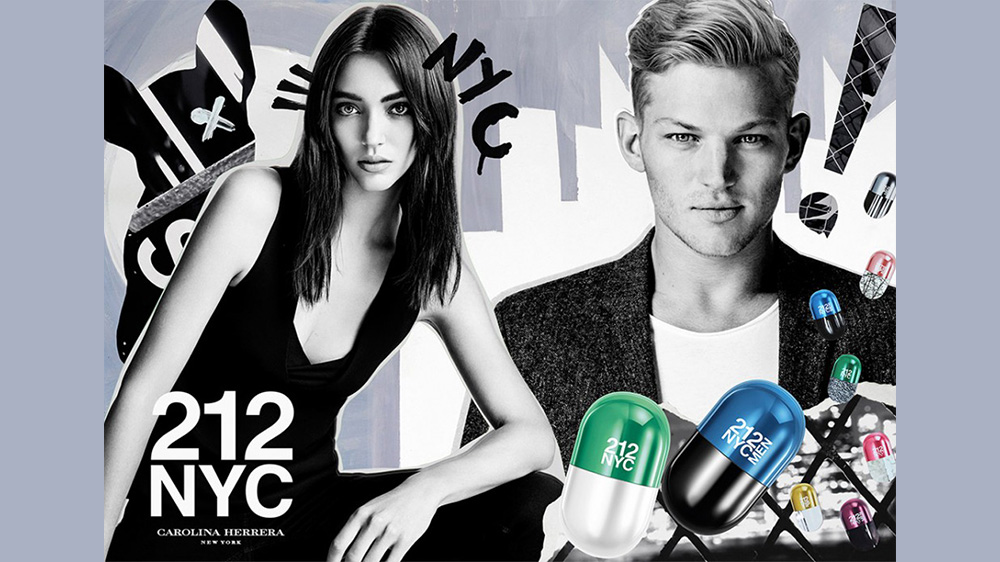 Launch of 212 New York Pills
Inspired by the impulsive, addictive energy of New York City, Carolina Herrera launches an innovative and playful fragrance collection, 212 New York Pills. Working in collaboration with renowned illustrator, model and filmmaker Quentin Jones to develop a revamped look, the 212 New York Pills offer an irresistible capsule of NYC vibes that will inspire men and women to chase love and make the city their playground.
The seven capsule fragrance pills – four for Her and three for Him – each contain the beloved fresh and sexy 212 scents that stimulate adventure and an unexpected love chase. 'Take the pill and follow me' – discover what scent matches your personality, follow your instinct and escape into the energetic NY subway; seek out the undiscovered, chase love and embrace the feeling that anything can happen. The 20ml capsules are designed to inspire young men and women to be impulsive, while together they pop a cocktail of elegance, seduction and intrigue.
Carolina Herrera creates the 212 New York Pills with a unique design: a 20ml capsule designed to fit in your purse or bag as you explore the city and all its unexpected wonders. The new chic and striking packaging reflects the energetic, collage pop work of Quentin Jones, which encapsulates the vibe and style of New York City. Quentin Jones is the perfect partner for this collection as both her style and artwork is unique and memorable. As a person, she represents the young, free spirit – a confident, beautiful artist full of energy and good vibes.
The seven 212 New York Pills fragrances each embody the personas that can be found bustling around the city's busy streets. Among women you'll find the energetic socialite, the glamorous and sophisticated VIP, the more feminine and elegant woman and the sensual, self-confident seductress. The New York man carries an aura of energy, intelligence and style; he may be the daring type who knows what he wants and how to get it, or maybe he's the masculine and sensual guy. There's a pill for each unique individual.
The 212 New York Pills will be available from 25th March 2016 at the following retailers for a limited time only; Edgars, Truworths, Foschini and Woolworths.
Visit www.carolinaherrera.com and join the conversation online using #212NYpills.