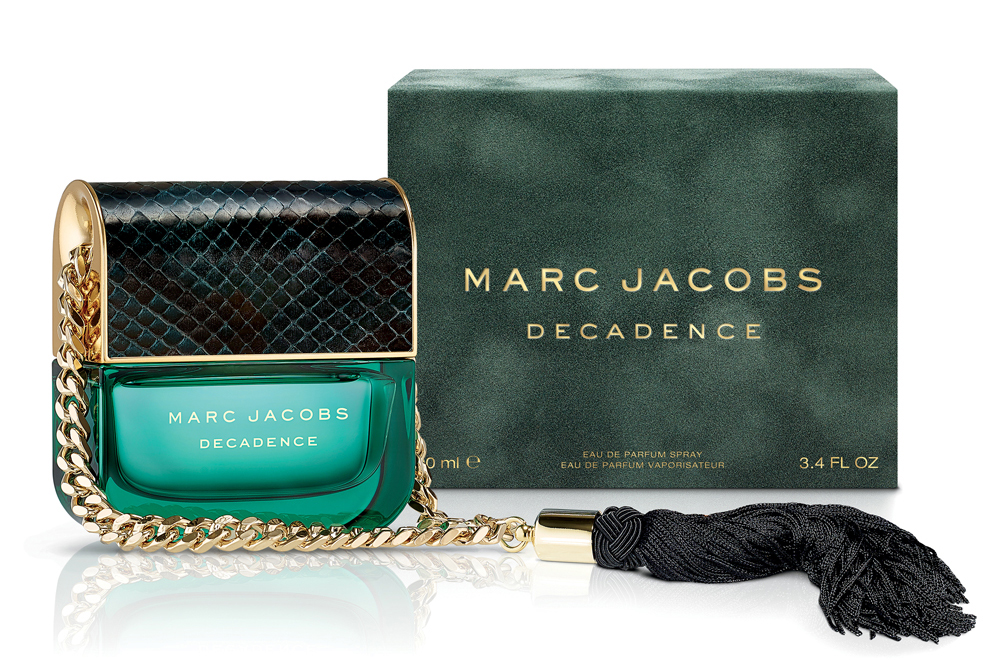 Glamorous and indulgent.
Impulsively luxurious.
Marc Jacobs Decadence.
The Concept
Marc Jacobs decadence is an invitation to indulge. It makes a statement with bold styling, luxurious craftsmanship and a revolutionary fragrance design inspired by one of Marc's iconic handbags. Decadence elevates the irreverent spirit of Marc Jacobs fragrances to a new level of luxury.
The Fragrance
Developed with master perfumer Annie Buzantian, Decadence is a luxurious sensual woody scent. The fragrance captivates with a sultry top of succulent Italian plum, golden saffron and velvety iris. The heart is a bouquet of rich Bulgarian rose that mingles with lush orris and creamy nuances of jasmine sambac. Sexy liquid amber, heady vetiver and warm papyrus woods dry down to a signature of sophisticated indulgence.
Top: Italian plum, iris, saffron
Heart: Bulgarian rose, jasmine sambac, orris
Base: liquid amber, vetiver, papyrus woods
Fragrance house: Firmenich
Master perfumer: Annie Buzantian
Fragrance developed in collaboration with Marc Jacobs and Ann Gottlieb
The Design
The ultimate statement maker, decadence is designed as a clever nod to Marc Jacobs fashion aesthetic. A decadently feminine bottle inspired by Marc's classic handbag shape.
Rendered in a palette of rich emerald green, decadence features an exotically textured arched python cap. A gold chain and black silky tassel finish the look, defining a new era of glamorous luxury with the re-emergence of clean lines, rich materials and opulent details. Lavish and sophisticated, the deep green outer carton features a sumptuous velvety feel and gold embossed logo.
A luxurious sensual woody fragrance – glamorous and opulent, with Marc's signature irreverent touch.