The new fragrance for women by Missoni is dedicated to a sensual, exuberant woman whose femininity truly stands out. A curious woman who is at the centre of her present, who lives outside of convention and preconceived ideas. A woman who is confident and wears this fragrance like a dress that slides right down her body, bringing out her vitality and charm.
WIN a bottle of the new Missoni EDP 100ml for you and for a friend, valued at R1,475.00 each!
Competition starts 15 September 2016 and ends 14 October 2016. The winner will be announced by 21 October 2016.
THE BOTTLE
A world of essences contained in a unique bottle that has been created in glass with soft, fluid hues.
It becomes, first and foremost, a precious object with a design that is both contemporary and timeless, just like Missoni's unmistakable style. Colour is freed from any kind of geometric constraint and also becomes fluid, in complete harmony with the sinuousness of the shapes used.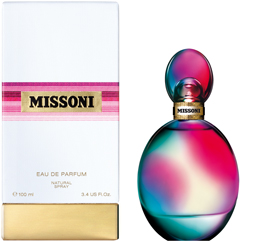 The golden band boasts a special working method that perfectly picks up on the idea of a woven strand. The same motif in shades of pink is used on the box that holds the bottle; a luxurious pure white box with an elegant gold base, created with materials of great quality.
THE FRAGRANCE
A perfume where the delicacy of Jasmine and the sensuality of Mahonial are embraced by the notes of the enveloping Woods and Tonka Beans, resulting in a perfume that is unique and refined.
The subtlety and joie de vivre of Italian citruses complete the harmonious balance of this fragrance, which represents the various shades of a woman's soul.
A custom fit. Like modern olfactory calligraphy that is extremely feminine and graceful.
HEAD:
Trio of Italia Citrus OrPur: Lemon, Bergamot, Citron, "Pomme d'Amour" and Pear
HEART:
Mahonial, Petailia and Jasmin Sambac
DRY DOWN:
Ambroxan, Tonka Bean and Sandalwood
OLFACTIVE FAMILY:
Floral – Fruity – Woody
NOW AVAILABLE AT SELECTED BRANCHES OF THESE STORES:
RECOMMENDED RETAIL SELLING PRICE
Missoni EDP 30ml R 840.00
Missoni EDP 50ml R 1,180.00
Missoni EDP 100ml R 1,475.00