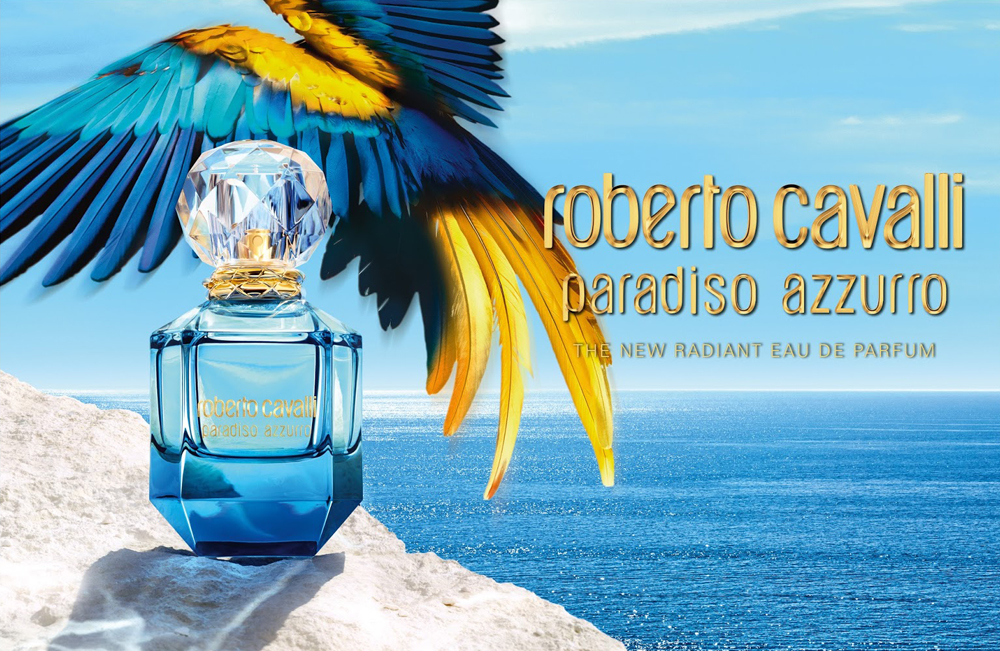 Roberto Cavalli Paradiso Azzurro
The golden lights of the rising sun caress the Mediterranean Sea, stirring golden sparks on its deep blue waters. Bathed in a halo of light, she walks through her azure paradise above the cliff. Here, where time stands still, she has found a new Paradiso.
An Azure Paradise
For the Roberto Cavalli brand, la dolce vita is not a mere symbol but a way of life and a tremendous source of inspiration. Through its bold creations, the renowned Italian fashion house celebrates sensuality and pleasure, extravagance and generosity. The Roberto Cavalli Paradiso perfumes are conceived as a tribute to this vision, a symphony of sun-filled notes inspired by the opulence of Italian landscapes.
A Mediterranean Romance…
Roberto Cavalli Paradiso Azzurro is a luminous celebration of the beauty of the Mediterranean coast. It blends soft and delicate notes of dewy flowers with a bright aromatic counterpoint, evoking the caressing sea breeze. Between charm and sensuousness, this evocative fragrance weaves a unique tale of seduction.
The Roberto Cavalli Paradiso Azzurro woman exudes cheerfulness and joie de vivre. She is a free spirited, moving through her life with grace and elegance. Her natural charm is irresistible, her spontaneous laughter infectious. At ease with herself, she effortlessly conquers the hearts of others.
A Flower by the Sea…
Roberto Cavalli Paradiso Azzurro was created by Louise Turner (Givaudan). For this Mediterranean floral aromatic fragrance, she drew inspiration from a vivid mental image: a radiant flower blooming by the sea.
The opening accord is reminiscent of the Mediterranean breeze: a touch of citrus brought by a sparkling zest of bergamot mingles with lavender top notes. This heady zephyr blends in with sensual fragrance of jasmine petals. The captivating floral heart note artfully balances jasmine's almost carnal presence with the fragile innocence of its dewy petals. The root notes of generous Cypress wood and Cashmeran give Roberto Cavalli Paradiso Azzurro a warm and luxurious dimension and a mesmerizing lasting trail.
A Facetted Blue Jewel…
Roberto Cavalli Paradiso Azzurro's aesthetics fully reflect the fragrance's universe. The bottle is a delicately facetted jewel whose translucent blue colour is reminiscent of the Mediterranean waters. The stopper's deliciously decadent cabochon captures the light, creating glittering reflections, like sunlight on the water. It proudly displays Roberto Cavalli's monogram, a token of quality and extravagance.
Snakelike metallic coils delicately wrap themselves around the neck of the flask. This playful ornament is mirrored in the carton box's snake-like lower frieze. As for the upper part of the packaging, it evokes the golden hue of dawn on the blue depths of the Mediterranean Sea.
A Mesmerizing Naiad…
"She is a bold and utterly feminine creature who irradiates a sophisticated glamour without being afraid to assert her natural seductiveness". It is through these words that Roberto Cavalli himself defined supermodel Edita Vilkeviciute, Roberto Cavalli Paradiso Azzurro's irresistible ambassador. Undeniably, Edita perfectly embodies the fragrance's unique blend of charm and sophistication. Shot by talented photographer Mario Sorrenti, her sensuous silhouette and mysterious gaze dare us to follow her into Paradiso Azzurro, Roberto Cavalli's very own blue paradise.