Our History
Discover the heritage, innovations, and landmark events which have shaped African Sales Company ("ASCO"), into a successful company, which is anticipating its centenary in 2036.
1936
Forced to escape from their ancestral home in Berlin, Germany from Nazi persecution, ASCO was founded by brothers Herbert and Richard Priebatsch in 1936, while a third founder, Siegfried Frankel, also from Germany, provided the starting capital of £5,000, which still reflects in the balance sheet as R10,000.
1937
ASCO was registered in 1937, based in Africa House in Johannesburg central, from which the name was derived. The company started trading as a wholesale distributor of millinery – specialty accessories used to adorn the heads of fashionable women of the time.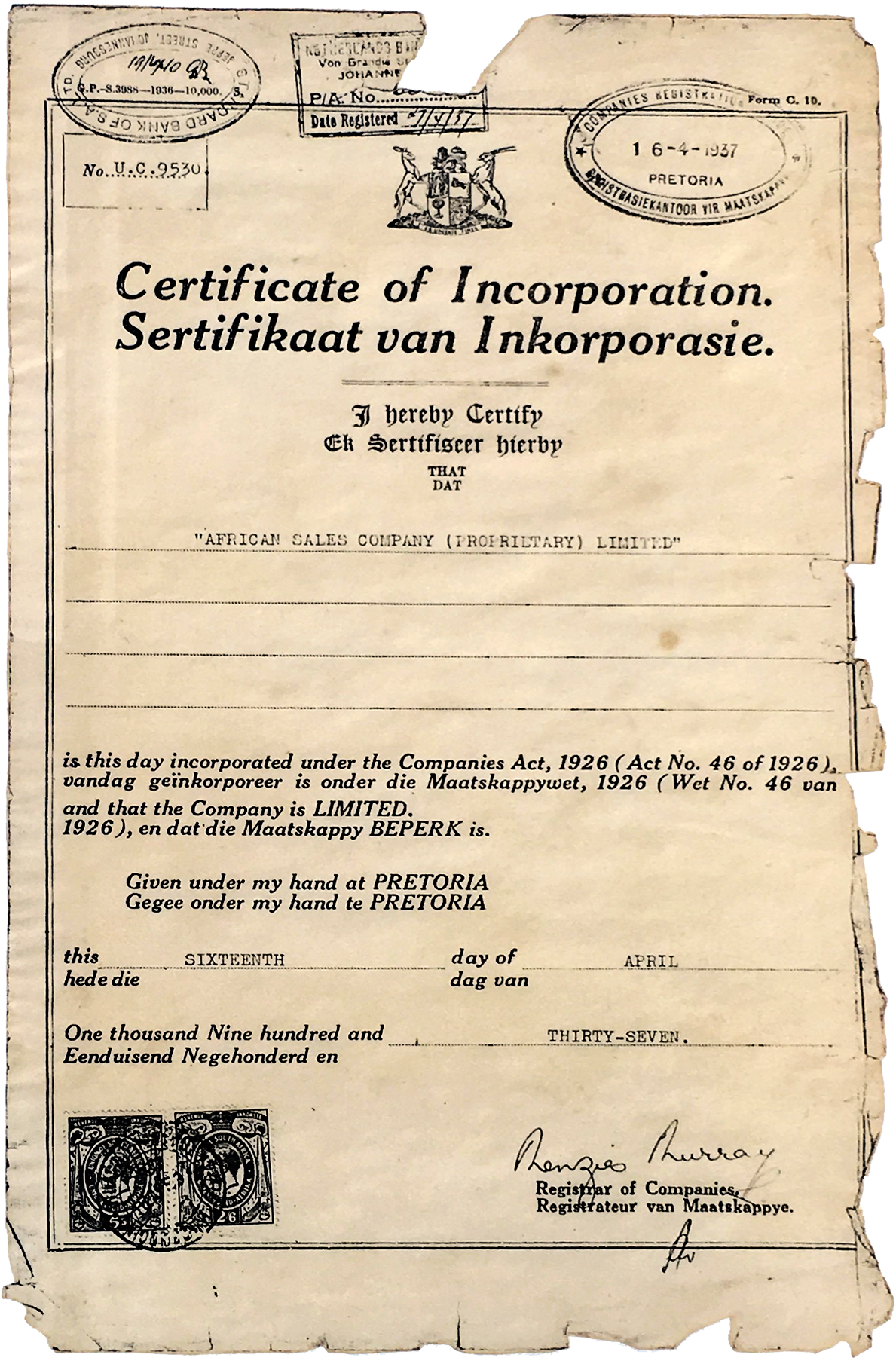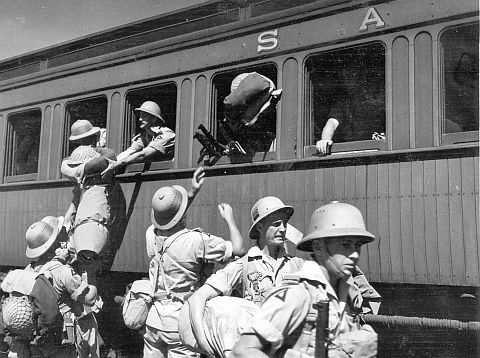 1939
1939 marked outbreak of World War II. Herbert and Richard Priebatsch joined the Union of South Africa military, while Siegfried Frankel liquidated his capital investment and retired from the company.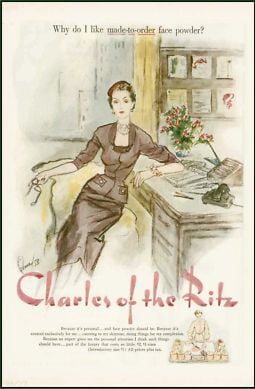 1945
On Victory in Europe Day (VE Day) May 8th 1945, Richard Priebatsch sailed for the United States searching for trading agencies to expand their wholesale distribution. It was at this time when ASCO advanced into fine fragrances and cosmetics, when Richard signed long-term relationships with the Charles of the Ritz cosmetic company and fragrance brands that included Dior, Molyneux, Schiaparelli, Caron, Rochas and Lanvin.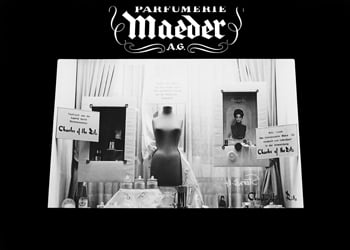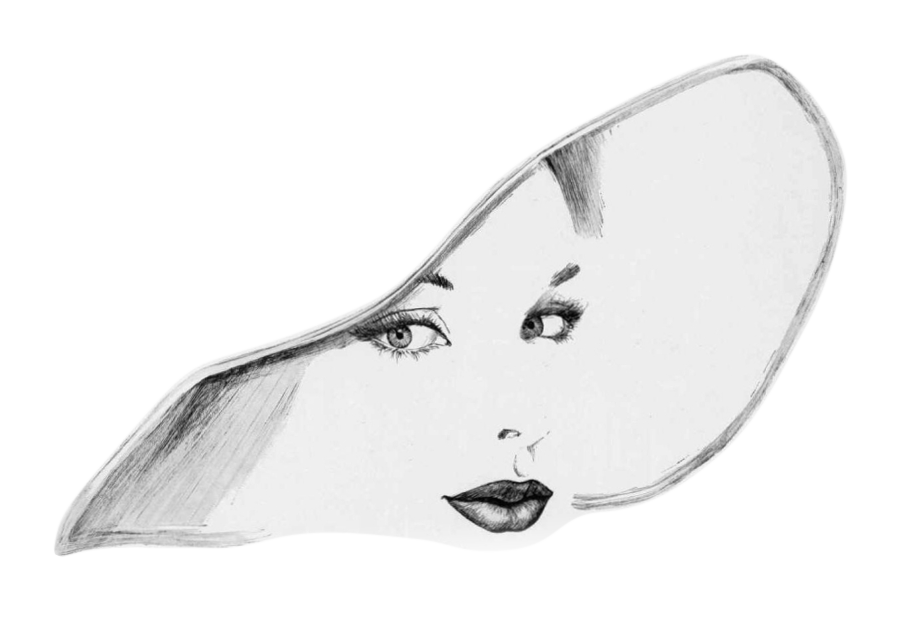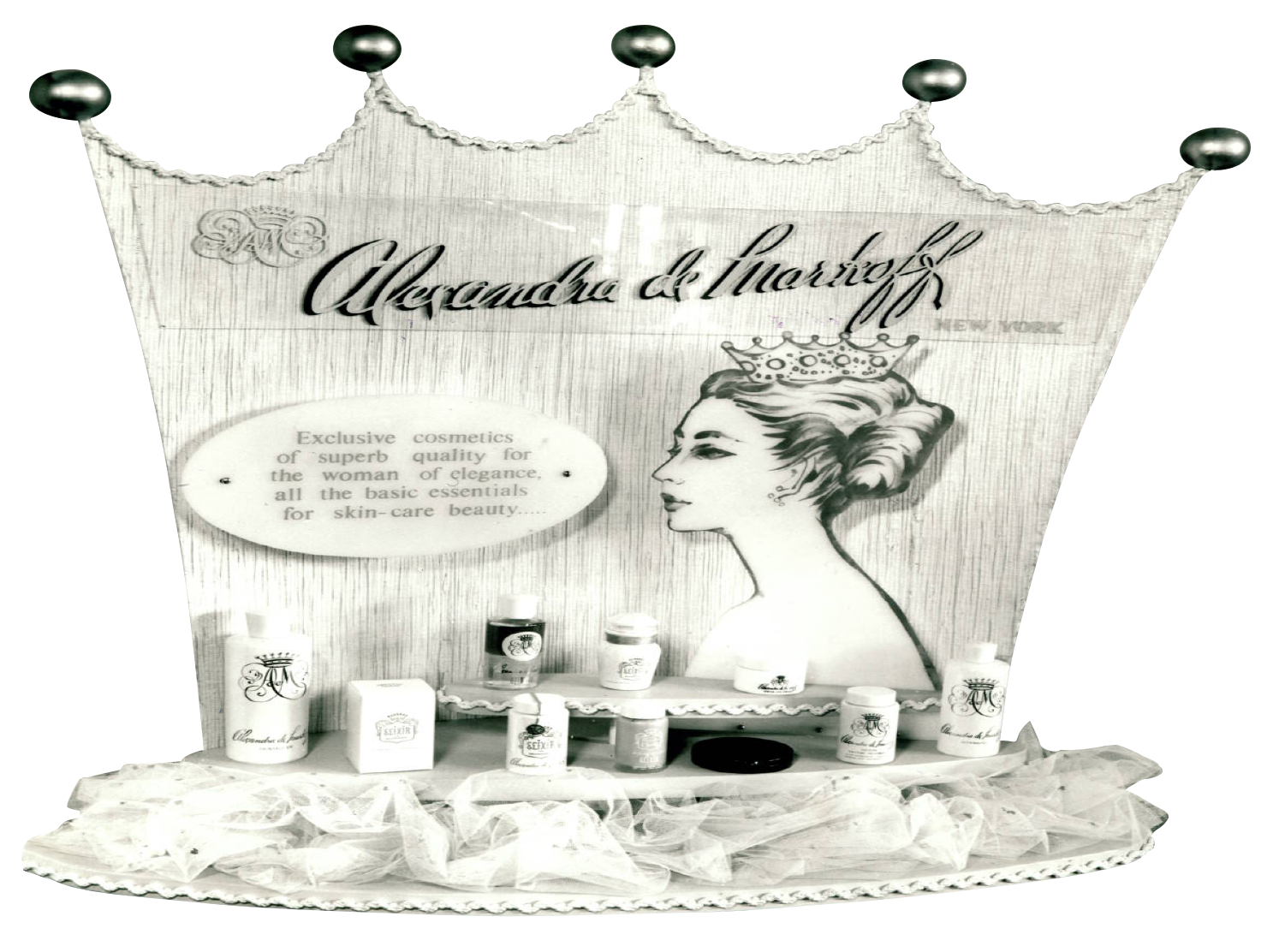 1950
In 1950, ASCO expanded and established sales offices in Cape Town and Durban in South Africa, Windhoek in Namibia (then South West Africa), and Harare in Zimbabwe (then Salisbury in Rhodesia).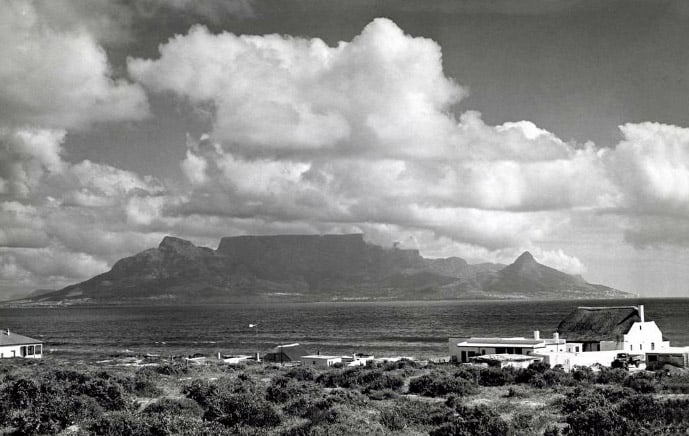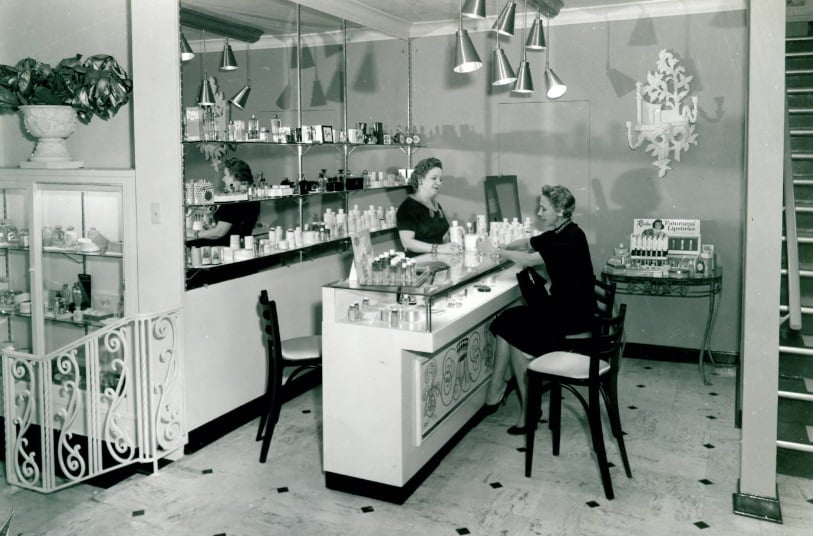 This provided a regional distribution network that went beyond South African borders. ASCO pioneered selective distribution in these territories, developing the fine fragrance and cosmetic category in collaboration with its Principal Suppliers and retail partners.
1956
In 1956, ASCO moved to bigger premises in Nugget and Bree Streets, Johannesburg. An association commenced with Jiffy Steamer, the world's leading steamer manufacturer, offering the finest clothing steamers, steaming products and accessories.
1962
In 1962, distribution agreements were signed between ASCO and Mäurer & Wirtz, a German manufacturer of personal care products and perfumes established in 1845.
1964
In 1964, distribution agreements were signed between ASCO and Yves Saint Laurent, a company founded in 1961 which became one of the world's prominent fashion houses.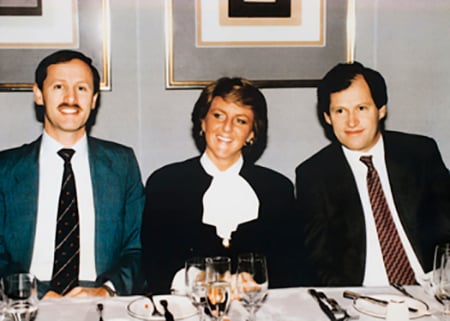 1968 - 1971
During the period of 1968 to 1971, twin brothers Robert and Charles Priebatsch, two sons of founder Herbert Priebatsch, joined ASCO. This was the start of their journey to ultimately leading the company to continue its Southern African vision.
1971
In 1971, distribution agreements were signed between ASCO and Paco Rabanne for their fragrance products. Paco Rabanne is a French fashion designer of Spanish origin who became known as l'enfant terrible (unruly child) of the 1960s French fashion world.
1975
In 1975, ASCO remodelled its association in fashion with a wholesale business division focussing on fashion accessories, textiles, sunglasses and more recently, in 1995, into non-branded homeware goods. The now rebranded Decorware division continues to thrive today.

1986
In 1986, distribution agreements were signed between ASCO and Puig, a third-generation family-owned fashion and fragrance business based in Barcelona, founded in 1914 by Antonio Puig, for their house brand Quorum.
1988
During 1988, founder Herbert Priebatsch retired and was succeeded by his sons Robert and Charles as the acting CEOs, with their uncle and ASCO co-founder, Richard Priebatsch.
1991
In 1991, distribution agreements were signed between ASCO and Coty Prestige. Coty, Inc. is an American beauty products manufacturer based in New York and founded in Paris, France, by François Coty in 1904.
1992
Sociable Charles Priebatsch found new friends after the historic freeing of all political activity.
Charles Priebatsch gladly assisted with Thabo Mbeki's 50th birthday celebrations.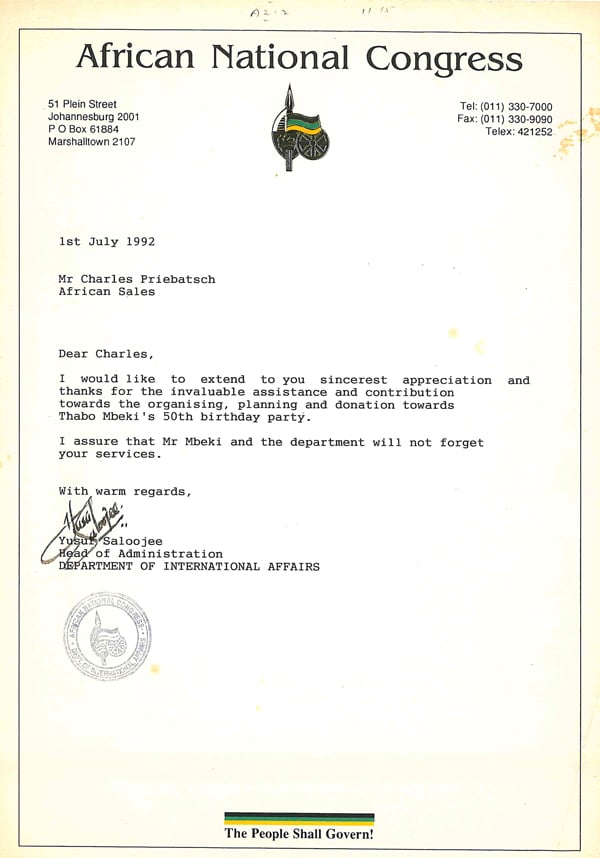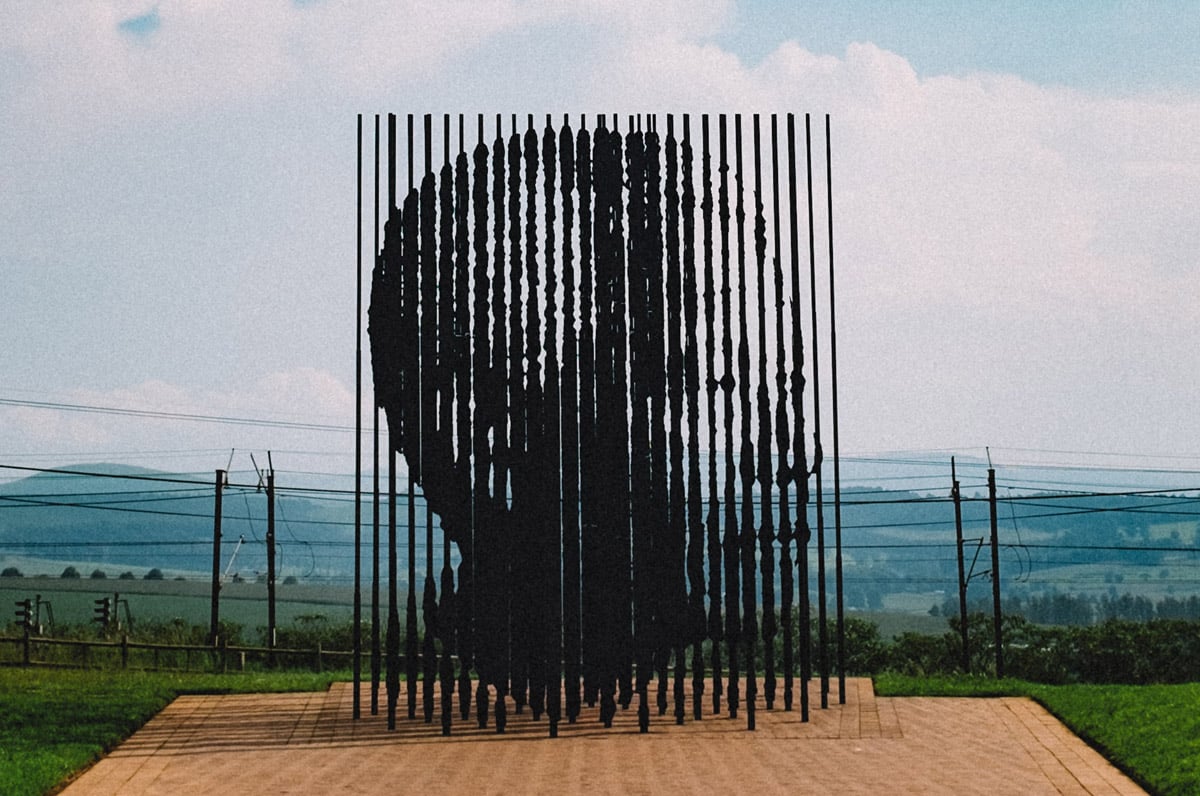 1994
1994 was a time when South Africa transitioned from the system of apartheid to a democratic one of majority rule, and this is when Nobel Peace Prize winner, Nelson Mandela, was sworn in as South Africa's first democratic president.
In 1994, ASCO relocated its head offices to the third floor of the Killarney Mall Shopping Centre in Johannesburg, while maintaining its distribution centre in the August House, End Street, Johannesburg.
1994 also saw distribution agreements being signed between ASCO and Procter & Gamble Prestige Beaute, the fine fragrances and cosmetics division within the American multinational consumer goods giant.
1994
A very busy ANC President Nelson Mandela lent a helping hand.
Two months before becoming South Africa's first democratically elected President, Nelson Rolihlahla Mandela, affectionately known throughout the country as Madiba, most kindly lent a helping hand in assisting African Sales to retain a key Distribution connection. The intervention and business plan pitch had a successful outcome.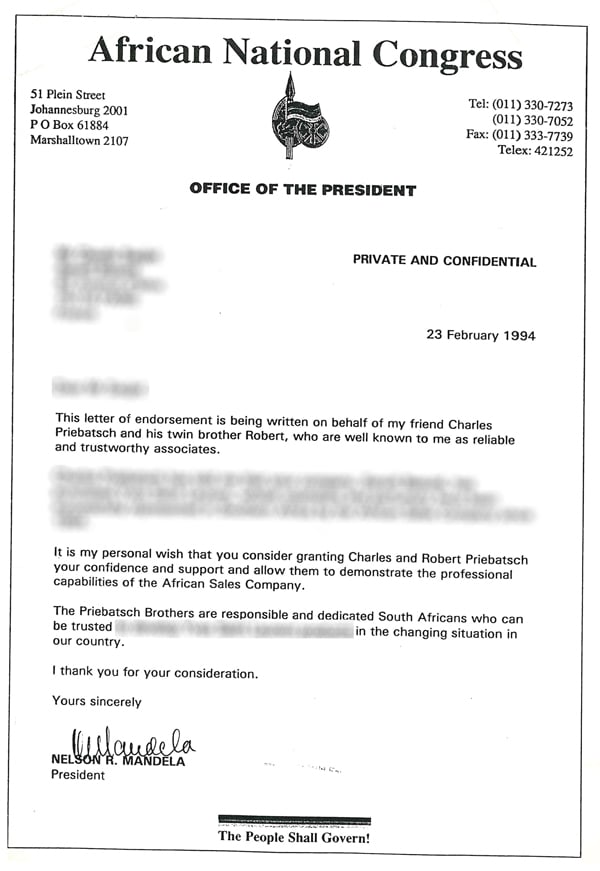 1995
Charles Priebatsch was honoured to be appointed an executive Trustee of the Nelson Mandela Children's Fund.
1997
Following the passing of Herbert and Richard Priebatsch, Robert and Charles became second generation joint CEO's.
2010
In 2010, distribution agreements were signed between ASCO and Dior, through PCDO – Parfums Christian Dior Orient FZCO – the Affiliate of Christian Dior in the United Arab Emirates. As a result, a new trading entity, Vendome, was established to represent the specific interests of PCDO in Southern Africa.
2013
In 2013, ASCO embarked on an undertaking to design and build a new custom-built head office and distribution centre. Construction commenced in 2013 and in late 2014 the company relocated to its new premises in Midrand, Johannesburg.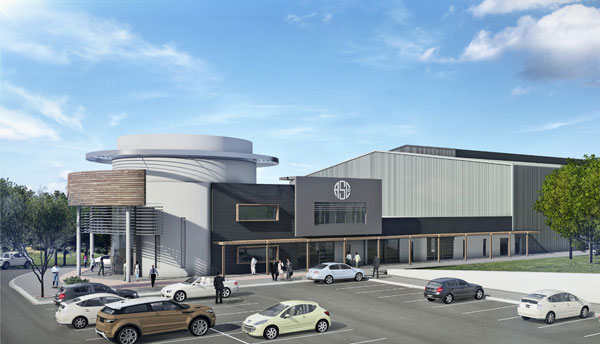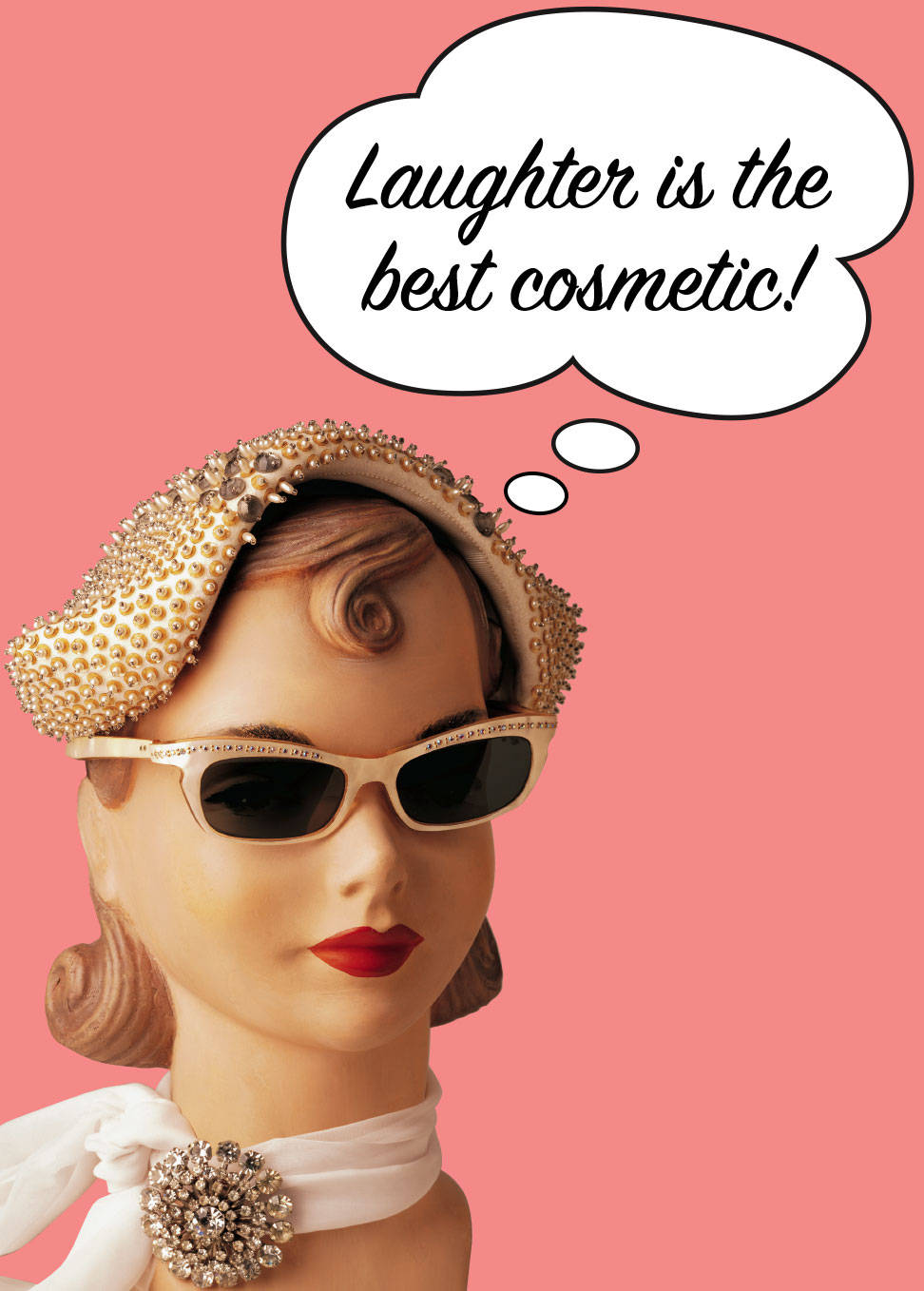 2014
In 2014, Cecilia Makua and Vijay Naicker and Max Priebatsch were appointed as Directors of ASCO. Cecilia was Commercial Director, Vijay HR and Logistics Director and Max New Business Director.
2014 also saw a Service Agreement being signed between ASCO and Benefit Cosmetics, with their marketing offices housed in the Cape Town regional office.
In 2016 ASCO launched various online retail opportunities, through a digital transformation strategy, building and operating a world-class e-commerce store for Jiffy Steamer SA, and redeveloped and rebranded its Homeware division, calling it Decorware.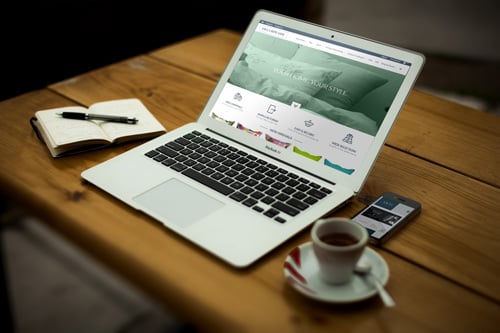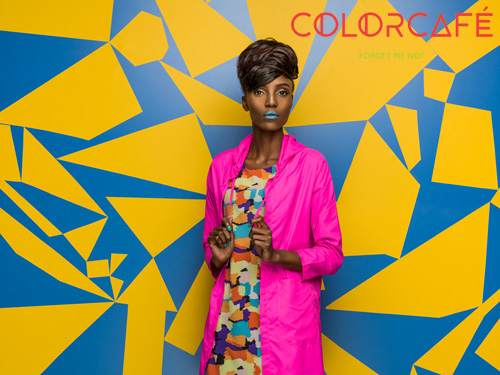 ASCO took a bold new step by launching its first brick and mortar retail venture, Color Café in Lusaka, Zambia. Color Café was established to bring an original, exciting and experiential retail experience to customer in Sub-Saharan Africa.
In the last quarter of 2016, Robert Priebatsch became Chairman of the Board. The role of CEO was placed in the capable hands of Cecilia Makua, and Vijay Naicker was promoted to COO.
African Sales Company enters into Retail
African Sales Company has registered a new business entity called African Sales Retail (Pty) Limited to house its retail interests.
African Sales Retail has partnered under license agreement with Dutch-based artisan retail group Skins Cosmetics Netherlands.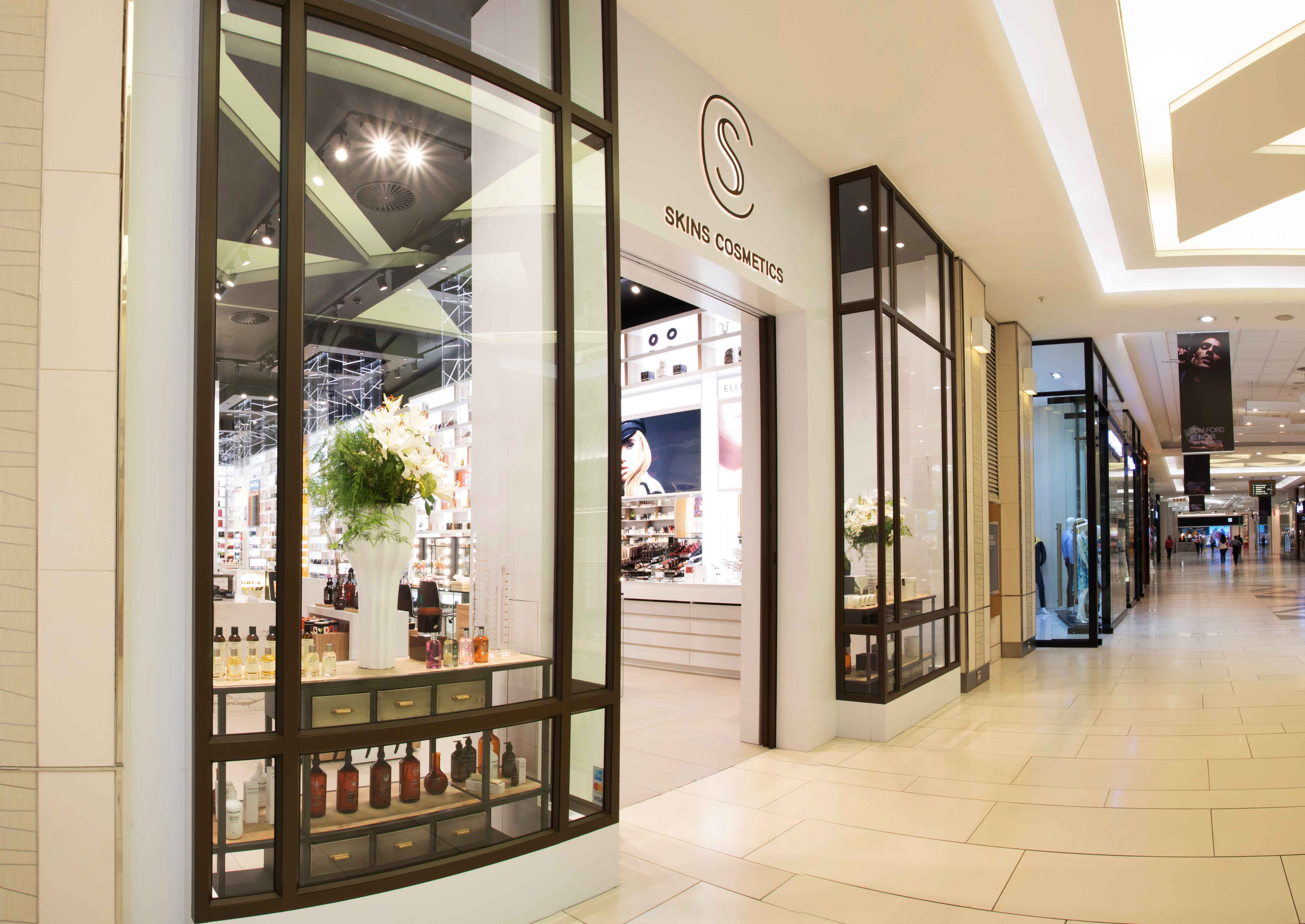 Skins Cosmetics
Skins Cosmetics is a Dutch beauty boutique that opened its first doors in Amsterdam in 2000. Since then, 11 more stores have been opened. In August 2017, the 13th store opens in South Africa, Sandton City, Johannesburg and is a unique luxury beauty journey, like nothing else offered in South Africa.
The primary offering is Beauty; (skin, fragrance, hair and makeup), whilst also incorporating a curated extension to home decor & lifestyle brands.
Skins Cosmetics is the first "boutique styled" beauty environment in South Africa, providing Europe, Middle East and The US's leading selection of niche/artisanal products for anyone who is looking for exceptional, bespoke, fashioned products, outside of the mainstream selection.
diptyque
African Sales Company has signed into a distribution agreement with diptyque Paris. 2018
A distribution agreement was signed with Molton Brown, a London bath and beauty and fragrance creative house honoured with Royal Warrants.
2018
A 50/50 merger took place between ASCO-SSA and Cadco Zimbabwe to form Nuance-SSA.

Charles Priebatsch chose a well-earned retirement after 51 years of service.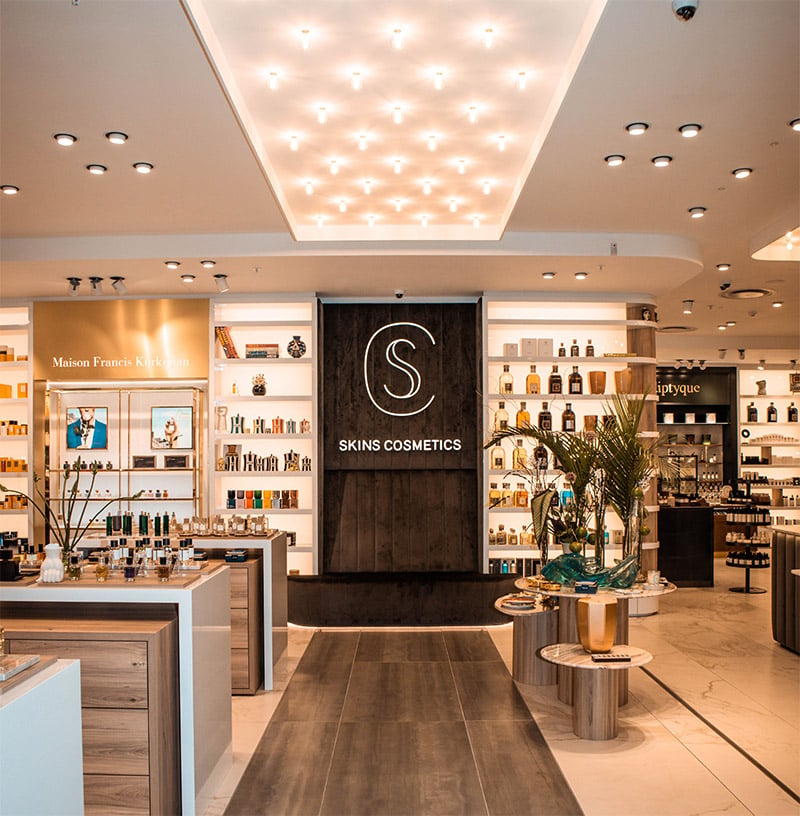 2020
The year started with all Divisions on track to meet targets.
In April the Company closed for four weeks during Covid 19 national lockdown. The pandemic effect accelerated winds of change already underway.
Trading resumed under strict health protocols in RSA and SSA markets.
The cost base and distribution network were realigned to reflect new realities.
Remote working and meetings through Teams and Zoom continued through the year, with partial office attendance.
Edgars entered and re-emerged from business rescue under Retailability.
A new alliance was formed with Benefit Cosmetics.
L'Occitane was invited to join the Group as an embedded independent division.
Online sales grew substantially with e-Retail partners and own sites for Skins Cosmetics, Jiffy Steamer and black Up cosmetics..
Vendome Retail hosted the first www.shop-beauty.dior.co.za in Southern Africa.
Skins Cosmetics Menlyn Park Pretoria opened in October.
2022
On May 27th, 2022, in partnering with Kendo Brands, African Sales Distribution and Nuance-SSA launched, through selected retailers, Fenty Beauty and Fenty Skins simultaneously in South Africa, Namibia, Botswana, Zambia, Zimbabwe, Kenya, Angola, and Ghana.
Bringing Fenty inclusively to Africa through a Pan African launch was a Beauty category FIRST.
Social media registered 150 million impressions in the launch week.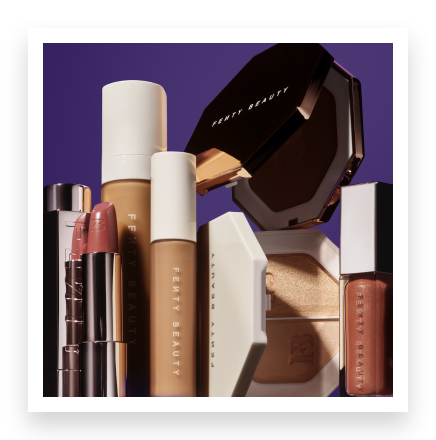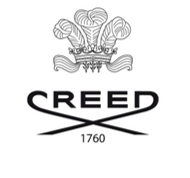 2022
Fontaine Group appoints African Sales to represent Creed niche fragrances for sale in Skins Cosmetics.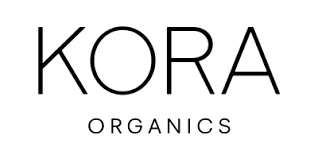 2022
Kora Organics created by Miranda Kerr joined our growing Skincare portfolio.
Kora products only use sustainable Natural Ingredients and is Certified Organic.
Welcome to our first Australian connection.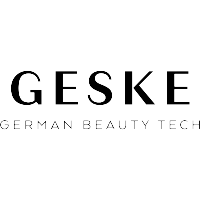 2023
Geske appoints African Sales as their distribution partner.
Geske brings German excellence and quality to beauty tech.
Welcome to our first beauty tech connection.

2023
Langeige – South Korean Cosmetics – appoints African sales as distribution partner.
The brand's flagship products include its Water Bank skin care line, Water Sleeping Mask, BB Cushion foundation and two-tone lipsticks.
2023
November – Skins opened its 6th Boutique in Mall of Africa.
Skins Flagship Sandton City boutique underwent a renovation and expansion in 2022, making it the largest Skins Cosmetics boutique in the world. There are over 20 Skins Cosmetics stores globally.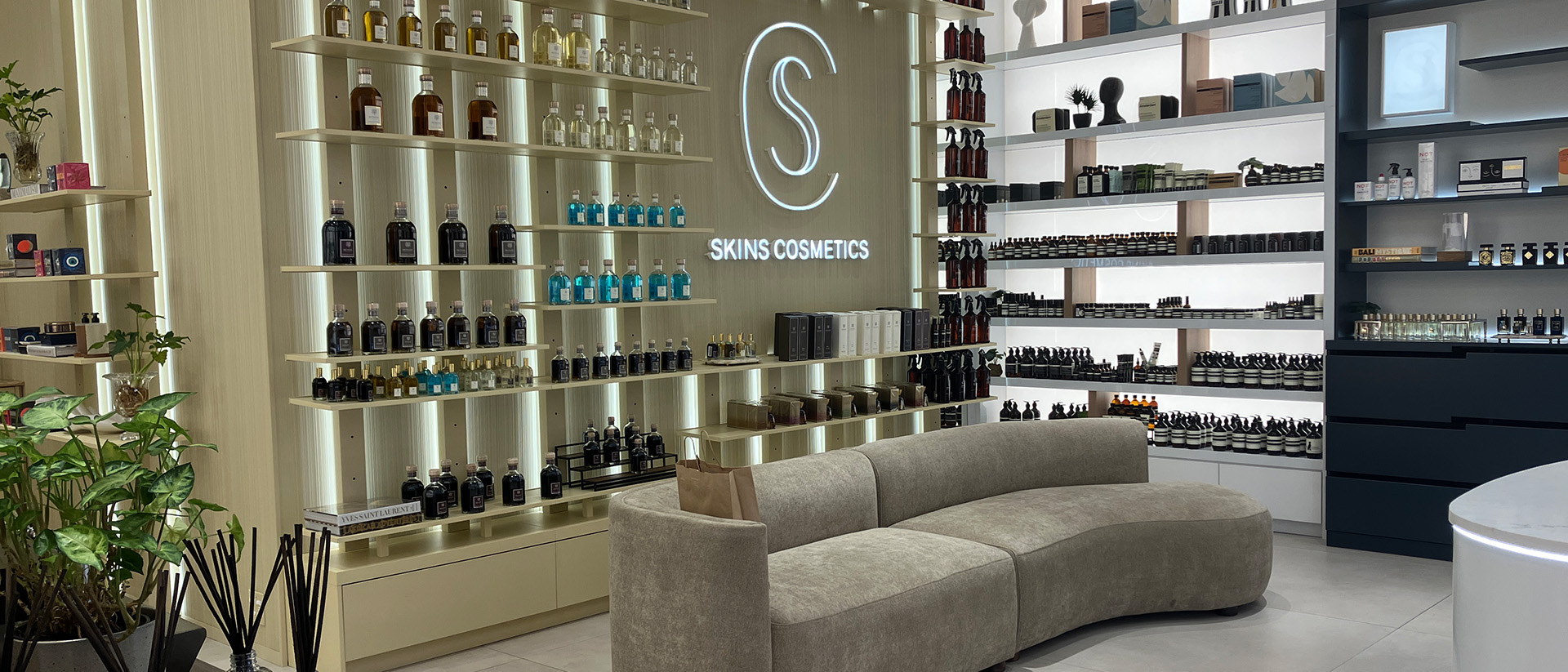 Present Day
ASCO as a Group with its partners continues to develop market share in distribution, retail and communication. Company sales, trade marketing, warehouses and training offices are located in Johannesburg, Cape Town, Durban and Port Elizabeth in South Africa, Gaborone in Botswana, Windhoek in Namibia, Luanda in Angola, Maputo in Mozambique, Lusaka in Zambia, Harare in Zimbabwe and Nairobi in Kenya.
While proud of our history – it is the work ASCO does today, tomorrow and next year that creates a future.
The consumer world has changed to omnichannel in brick and mortar and e-retail, to business e-commerce, enhanced business intelligence and the unlimited power of social media communications.
ASCO enthusiastically cherishes the digital transformation that technology provides for a brave new consumer world as we press on towards our centennial in 2037.